| | |
| --- | --- |
| | |
Show Posts
This section allows you to view all posts made by this member. Note that you can only see posts made in areas you currently have access to.
Messages - Mysticle31
Pages: [1]
2
« on: February 09, 2017, 02:47:17 am »
I created this thread thinking that I'd be fixing up my MK1 and building a 1.6TD or mTDI for it to use as a daily. My goal was to get everything nice, add AC, make some power, do some suspension work and get a high mpg gti. Kinda silly I guess, because it's not like it gets enough mpg to offset the cost of just buying a GTI or XRS or Fit or Civic or something.
Then I found the car below! Not a MK1 so I guess I need to move sub forums.
I'm either going to sell the MK2 in in awhile after I build the MK1
OR
I'll fix up the mk1, do it's maintenance or maybe build a 1.6TD for it, drive it awhile and sell it to fund the MK2. Any thoughts as to what you might rather buy or be easier to sell? Everyone seems to want a TD.
On the MK2 I just did all the maintenance. Timing Belt, Water Pump, Rubber Valve Cover Gasket...more. Engine is a 1V, starts easily. Trans is an AUG rebuilt to AVX spec. It's a TINY kkk turbo in good shape. Axles and suspension look great. Someone put some $ into this car just a little while ago.
Someone removed the high speed screw and turned the fuel screw WAY up. It scooted along pretty good. It makes me wonder what this car would do with a hoped up pump on the stock turbo, then maybe a bigger turbo. I could even put a 1.9 head on it! I dont want to buy a pump twice though. I'm not sure how the pump/turbo relation works here. Or maybe I wont mess with it and build the mTDI and drive it as it is. I'll put 10.1 or 11 inch brakes on it, tach, and fix some interior and weatherstripping things first then dive into the engine.
Car has a recaro interior already, spoiler, antenna, badge (lol) It was really a GL.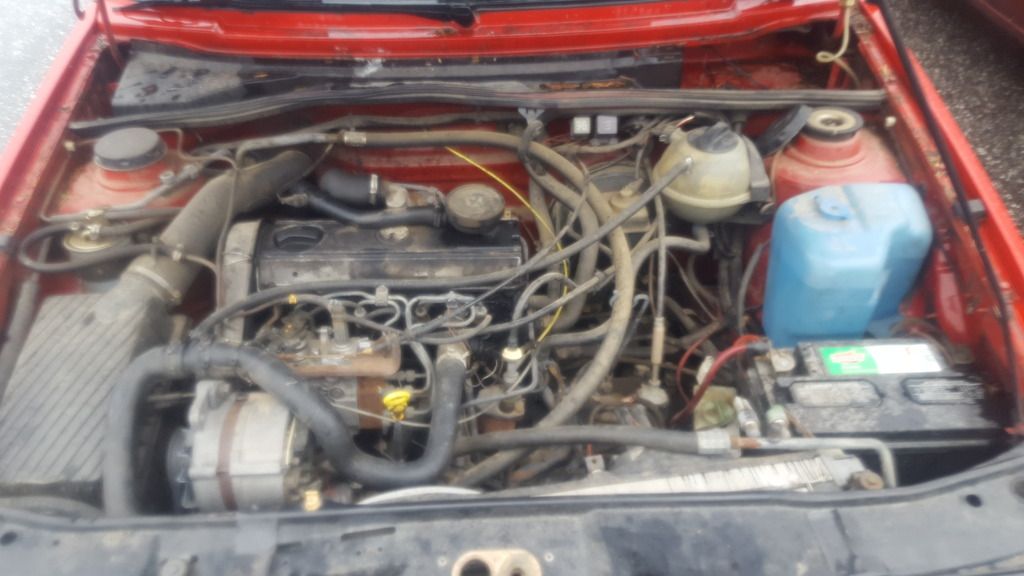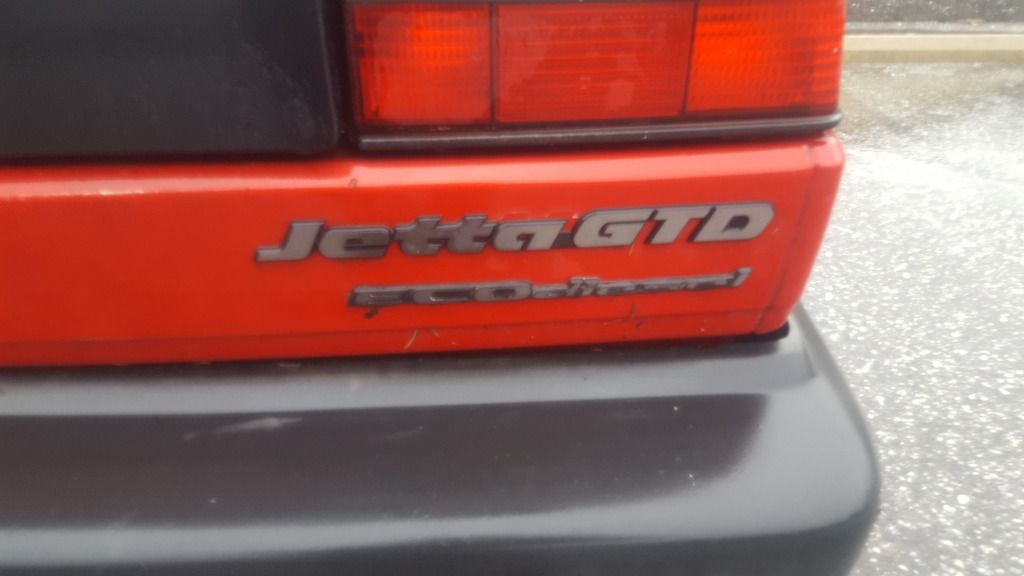 3
« on: January 15, 2017, 05:27:45 pm »
Looks like I have some diagrams for a 83 Jetta. Not sure if they are close, could be similar. Post what areas you are working on? Engine Bay, Fuse Block, Dash?

Your pics dont work.
4
« on: January 15, 2017, 05:22:25 pm »
Yeah the TDI would be best, but that's alot of work. Cluster, Harness, Tying in to existing electrical, pedals and shifters...wow. I got excited when I learned about mTDI.

I've read about the cold start problems of 1.9 head on 1.6 block. I live in NorCal, Bay Area, Sacramento. Same story? I don't like having to plug an oil drain either.

A big question of mine is is how do you tune these? I'd have to find someone who knew 1.6 or mTDIs to tune it for my build and turbo? I dont want to be messing with screws I dont understand, and this is a precision mechanical pump.

Can I buy nozzles or inserts at RockAuto (Bosh, SMP or Delphi) or is it better to have mine rebuilt? I have access to an injector tester, a bunch of the nozzles floating around here seem to spray well and have similar pressures.

So 120ish HP is achievable with a 1.6TD, is it tapped out for reliability and cost it that level? Easily doable with an mTDI is great to hear. I'm going to have to price out some options. Building a 1.6TD vs buying a nice AHU/1Z and slapping a pump on it might be similar cost because I'd need a turbo, maybe a pump, plus all the gaskets, seals, belts..etc for the 1.6TD. However with a AHU/1Z if I can find one in good shape, slap a belt it, pump it, and slap it in there.

Right now my goal is to get the 1.6NA running with new mounts, timing belt, maintenance and drive it for awhile to see if I can even handle driving a 30 year old diesel.
If I can say to myself, "I like this car it's just too slow and a little noisy" then I'll build it. Otherwise, get it running good, I'll drive it awhile/commute, and sell it.
5
« on: January 15, 2017, 04:47:36 am »
I've built MK1 16V, MK2 VR6, Festiva B6T, and had many Mazda Miatas. Some at the same time. I'm thinking of one final build. I'm in my mid 30s and just graduated and about to start my first "real" job. I swore when I built my MP62 Megasquirt Miata that I was done messing with cars and that if I wanted a quick, cheap car I'd just go buy a Corolla XRS, GTI, Honda Swap, Fit, Focus, Fiesta..etc drive in comfort with AC and be done.
Well, I'm thinking of doing another build vs buying one of those above. I have a clean MK1 Diesel 1.6NA. I'm thinking of building this Rabbit to be a nice daily.
I'm really attracted to a quick, fun, powerful car that gets 40mpg, 45mpg, maybe even 50mpg! 0-60 in ~6-7sec, handles.
This is where a little stupid comes in. I'd build a motor, slap in in there and still be driving a 30 year old rabbit. I'd probably gradually re-insulate the car, redo the dash and door panels and headliner, suspension, maybe even paint it. Daily Driver Refresh. Whereas I could buy an XRS and be driving a "better" car with lower MPG. Fuel cost is such a small part of the cost of a car, the extra MPG of the diesel would be eaten away by monthly restore/refresh costs and then some. However, I wouldn't have a 3K initial outlay to deal with.
Any signs of these cars appreciating in value in the next couple years? Should I throw 4K, 5K, 6K at a rabbit?
These projects always get bigger then I plan
For this build it comes down to built a 1.6TD, 1.6TD with 1.9 head, or mTDI. You guys have some nice builds on here.
Is the mTDI more smooth than the 1.6 or 1.9 IDI? Could be important for a daily. I've never had a diesel before.
Obviously the TDI head is better than the 1.6 or 1.9.
Is it a good idea to bolt a 1.9 head on a 1.6 block WITHOUT the oil return? Could tig weld it up, or throw a bolt in there. I'd also need a different valve cover I read.
I dont see the reason to buy an $$$ 1.9 if the mTDI is better. Agree?
I'd like to have a reliable 100hp, maybe 130hp. What would you recommend? Buddy has lots of 1.6TD parts lying around.
Pages: [1]
| | |
| --- | --- |
| | |